Santander dish out advice to MP on avoiding fraud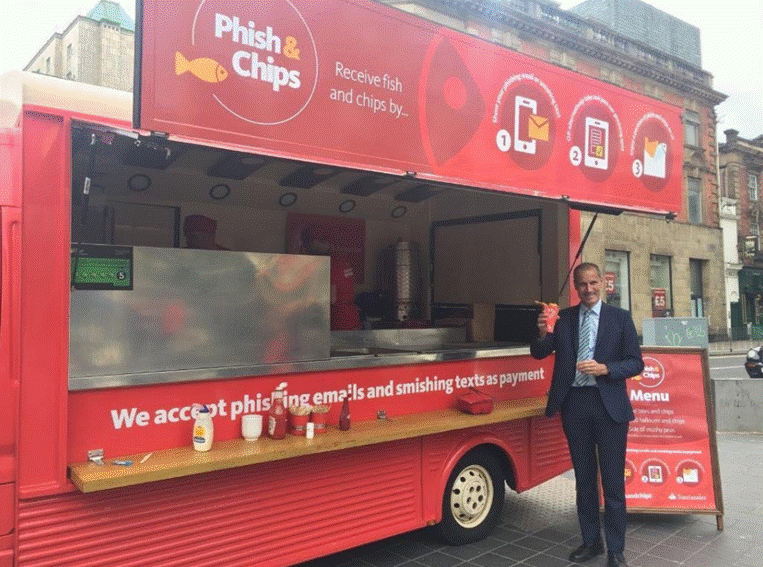 Santander dish out advice to MP on avoiding fraud
Sefton Central MP Bill Esterson has had his chips courtesy of Santander's fraud
prevention team.
The MP and shadow Business Minister visited Santander's "phish and chips"
van to tuck into some tasty fries and learn how to avoid online and text bank
scams.
Mr Esterson praised the bank's unique way of helping to educate the public
about the danger of losing money due to phishing.
He said: "It's incredibly important that customers understand how dangerously
easy it is to be defrauded online or on the phone.
"I'd encourage people to find out the steps they can take to protect themselves.
"Well done to Santander for coming up with such an innovative and unique idea
for getting this message across. I was especially pleased to support this
campaign in the centre of Liverpool, especially as Santander are one of our
biggest employers."
Reza Attar-Zadeh, Head of Customer Experience at Santander UK, added:
"Santander takes the fight against fraud very seriously – and we were delighted
to have Bill Esterson's support. We have seen the life changing impact fraud can
have on people's lives.
"Consumer awareness is absolutely key to tackling what is currently one of the
biggest threats to the security of people's finances.
"Our Phish & Chips van is a way of delivering our three key fraud prevention
messages in an engaging way while educating people that both banks and
consumers have a role to play in keeping the fraudsters at bay."


Please reload